Hi, I'm Pax Red, a multidisciplinary artist with a passion for sound and art.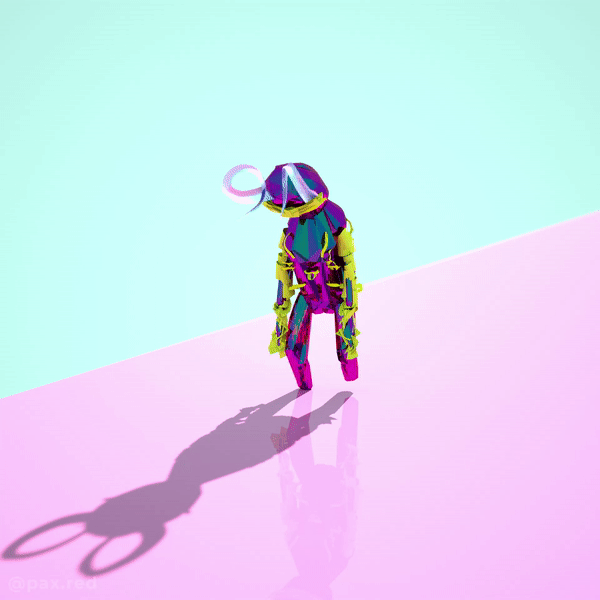 (c) 2021 Pax Red - leave me alone
"With a background in music and visual art, I strive to bring emotions and life to my audience through my captivating audio, and visual experiences in various mediums."
---
SOUND
With a keen ear for detail and a natural ability to create immersive audio experiences, Pax Red's sounds are designed to transport you to another world. Whether you're looking for a soundscape to enhance your video game, film, or advertisement, Pax Red has got you covered.
---
MUSIC
With a background in electronica, pop, orchestral, hip-hop, EDM and many more, Pax Red's musical skills are as diverse as they are captivating. From his public artist aliases and over 20 singles released to date, his music has been featured on music blogs and streamed over half a million times.
NFTs (Non Fungible Tokens)
Pax sees the integration of NFTs through decentralization/web3 as a potential game-changer for ownership, preservation, and exchange of digital assets in the future, as technological advancements such as AR/VR and Machine learning & AI shape our digital reality.Some of Pax's art, that have been minted as NFTs on various blockchains, can be found on the following NFT platforms.
Who is Pax Red?
Pax Red is a multidisciplinary artist with a passion for sound, music, and storytelling. With roughly a decade of experience, he has honed his artistic abilities to craft mesmerizing audio and visual experiences by blending different forms of storytelling.Pax's love for sound started at a young age and has since grown into a lifelong pursuit. His musical background includes a variety of styles, from orchestral pieces to electronic and pop music. He has released over 20 singles throughout the years under several guises, demonstrating his versatility as a musician. This musical journey has also sparked Pax's interest in sound design in film, video games, and advertising.As a futurist, Pax is constantly searching for fresh approaches to incorporate technology into his work and expand the realm of the imaginable. He believes that as technology continues to advance, it will play an even bigger role in shaping the future of sound, art and our daily lives.Although Pax has a keen interest in sound, he is always looking for new ways to narrate his stories, whether it is through painting, 3D art, animation, UI design, or other mediums.Pax Red's music and artwork are a reflection of his desire for creating and inspiring. Whether you're a fan of sound and music, or simply appreciate creativity in all its forms, Pax's work is sure to captivate and inspire you.
CURATION
Pax is an artist who knows that art, like life, comes in many forms. He loves to experience new genres of art and music, whether it's an experimental obscured musical genre or a paper mache sculpture. His favorite part about the modern world is that there are so many different ways to express yourself and your vision—and he wouldn't have it any other way.In addition to his own artistic pursuits, Pax also curates work from others on a variety of channels:studio9 (NFT art gallery - 45+ artworks from different artists)kogeruu (Instagram gallery - 2D, Painting) - 140k+ reachrender.cc (Instagram gallery - 3D) - 10k+ reachPax R. on Spotify - (different genres, mood, events, etc) 5k+ combined reachAnd more! If you have a piece of art or music that you think would be a good fit for one of these channels, feel free to send him a DM
Privacy Policy
We understand the importance of privacy and are committed to protecting the personal information of our users. We only collect the minimum amount of data necessary to provide a functional experience on our website. This data is never sold or shared with third-party companies.

CookiesOur website uses cookies to enhance the user experience and to gather anonymous analytics data. Cookies are small text files that store information on your device and help our website remember your preferences and activity. You can choose to disable cookies in your browser settings, but this may affect the functionality of our website.


Functional dataFor the purpose of providing you with the best user experience and improving our website, we may collect functional data, such as device type and operating system, browser type and version, and Internet Service Provider. This data is collected automatically and is not linked to any personal information.


Third-Party ServicesWe may use third-party services to enhance your experience on our website, such as social media widgets, analytics, and advertising. These services may collect information about your use of our website and your device, such as IP address and device type, and may use cookies or other tracking technologies.We do not sell any of the data collected on our website to any third party. The information we collect is used solely for the purpose of improving our website and providing you with the best possible user experience.


ConsentBy using our website, www.pax.red, you consent to the collection and use of this data in accordance with this Privacy Policy. If you do not agree with the terms outlined in this policy, we ask that you please discontinue using our website.
Terms & Conditions
This license agreement (the "Agreement") is a binding agreement between Pax Red, also referred to as "Palshu" and/or "astralsync Media" and collectively referred to as "Licensor", and you, either an individual or a business (collectively referred to as "you" or "Licensee"). By purchasing, downloading, or commissioning any work of Pax Red, including but not limited to audio, sound recordings, video, artwork, typeface, and other similar content (collectively referred to as "Content"), you agree to be bound by the following terms and conditions. If you do not agree to these terms, you may not purchase, download, or commission any Content from Licensor. Licensor reserves the right to change these terms and conditions at any time, with or without notice.General
The Content is licensed to you, not sold. Upon purchase, you receive a single user license, valid for the lifetime of the original purchaser. The Content remains the property of Licensor, who retains all copyrights and other intellectual property rights. The purchase of a license does not transfer any ownership or intellectual property rights to you.Non-fungible token
If you own any Non-fungible token (NFT) created by Licensor, it is similar to owning a physical artwork, original painting, print, or music format like a vinyl or CD. However, this ownership does not include intellectual property rights, such as the ability to commercially produce, distribute, or create merchandise from the NFT. The intellectual property remains with Licensor.No-copyright content
For Content offered as "No-copyright" by Licensor, including but not limited to audio, sound recordings, project files, 3D models, typeface, and other similar content, the following terms apply. These terms will be stated in the description of the Content on social media platforms or other public spaces used by Licensor to promote the Content. In such cases, you are free to:Share: copy and redistribute the material in any medium or format
Adapt: remix, transform, and build upon the material
However, these freedoms are subject to the following conditions:Attribution: You must give appropriate credit, provide a link to the source or the license, and indicate if changes were made. You may do so in any reasonable manner, but not in any way that suggests that Licensor endorses you or your use.
NonCommercial: Unless otherwise stated, you may not use the material for commercial purposes.
ShareAlike: If you remix, transform, or build upon the material, you must distribute your contributions under the same license as the original.By accepting these terms, you agree to comply with all the above conditions. Failure to comply with these terms may result in the termination of your license and potential legal action taken by Licensor.
Impressum
Pax RedContact Information:
mgmt@palshu.comDisclaimer:
The content on this website is for general informational purposes only and does not constitute professional advice. While Pax Red strives to keep the information on this website accurate and up-to-date, no representations or warranties, express or implied, are made regarding the completeness, accuracy, reliability, suitability or availability with respect to the website or the information, products, services, or related graphics contained on the website for any purpose. Any reliance you place on such information is therefore strictly at your own risk.In no event will Pax Red be liable for any loss or damage including without limitation, indirect or consequential loss or damage, or any loss or damage whatsoever arising from loss of data or profits arising out of, or in connection with, the use of this website.This website may include links to other websites which are not under the control of Pax Red. These links are provided for your convenience to provide further information. They do not signify that Pax Red endorses the website(s). Pax Red has no control over the nature, content, and availability of those sites. The inclusion of any links does not necessarily imply a recommendation or endorse the views expressed within them.Intellectual Property:
Intellectual Property:
The content of this website, including texts, graphics, logos, images, and other materials, is protected by copyright and other intellectual property laws and is the property of Pax Red. You may view, print or download the content for personal, non-commercial use only. Any other use, including but not limited to reproduction, distribution, display, or transmission of the content of this website is strictly prohibited, unless authorized by Pax Red.This website may also include icons or logos of social media platforms and services whose copyright belongs to rightful owners. Their use does not imply endorsement of the website or its content by the respective owners, and Pax Red makes no representations or warranties with respect to the accuracy or reliability of the information contained on these platforms or services.Governing Law:
This Impressum, and your use of this website, shall be governed in accordance with the laws of the German government. Any disputes arising in relation to this website or its content shall be subject to the exclusive jurisdiction of the courts of the German government.By accessing and using this website, you acknowledge that you have read, understood, and agree to be bound by the terms and conditions outlined in this Impressum. If you do not agree to these terms, please do not use this website.
---
IN GERMAN
Kontaktinformationen:
mgmt@palshu.comHaftungsausschluss:
Der Inhalt dieser Website dient nur zu allgemeinen Informationszwecken und stellt keine professionelle Beratung dar. Während Pax Red bestrebt ist, die Informationen auf dieser Website akkurat und aktuell zu halten, werden keine ausdrücklichen oder stillschweigenden Garantien hinsichtlich der Vollständigkeit, Richtigkeit, Zuverlässigkeit, Eignung oder Verfügbarkeit im Hinblick auf die Website oder die auf der Website enthaltenen Informationen, Produkte, Dienstleistungen oder damit verbundenen Grafiken für irgendeinen Zweck gemacht. Jegliche Verlassenheit auf solche Informationen erfolgt daher ausschließlich auf eigene Gefahr.In keinem Fall wird Pax Red haftbar sein für Verluste oder Schäden, einschließlich, aber nicht beschränkt auf indirekte oder Folgeschäden oder für jeglichen Verlust oder Schaden, der aus dem Verlust von Daten oder Gewinnen resultiert, die im Zusammenhang mit der Nutzung dieser Website entstehen.Diese Website kann Links zu anderen Websites enthalten, die nicht unter Kontrolle von Pax Red stehen. Diese Links werden zu Ihrer Bequemlichkeit bereitgestellt, um weitere Informationen zu liefern. Sie bedeuten nicht, dass Pax Red die Website(s) unterstützt. Pax Red hat keine Kontrolle über die Art, den Inhalt und die Verfügbarkeit dieser Seiten. Die Aufnahme von Links bedeutet nicht unbedingt eine Empfehlung oder eine Ünderschrift der auf ihnen dargestellten Ansichten.Geistiges Eigentum:
Der Inhalt dieser Website, einschließlich Texten, Grafiken, Logos, Bildern und anderem Material, ist durch Urheber- und andere gewerbliche Schutzrechte geschützt und ist das Eigentum von Pax Red. Sie dürfen den Inhalt zu privaten, nicht-kommerziellen Zwecken ansehen, drucken oder herunterladen. Jede andere Nutzung, einschließlich, aber nicht beschränkt auf Reproduktion, Verteilung, Anzeige oder Übertragung des Inhalts dieser Website, ist ausdrücklich verboten, es sei denn, sie ist von Pax Red autorisiert.Darüber hinaus können auf der Website auch Icons oder Logos sozialer Medien- und Dienstleistungsplattformen enthalten sein, deren Urheberrechte den jeweiligen Eigentümern gehören.Geltendes Recht:
Dieses Impressum und Ihre Nutzung dieser Website unterliegen den Gesetzen der deutschen Regierung. Alle Streitigkeiten im Zusammenhang mit dieser Website oder deren Inhalt unterliegen der ausschließlichen Zuständigkeit der Gerichte der deutschen Regierung.Durch den Zugriff und die Nutzung dieser Website bestätigen Sie, dass Sie die im Impressum beschriebenen Bedingungen gelesen, verstanden und akzeptiert haben. Wenn Sie diesen Bedingungen nicht zustimmen, verwenden Sie bitte diese Website nicht.
---
---
AI Tools for Topic Development and Research
---
(Every link opens in a new tab)
---